An American Road Trip
"Transition is always a relief. Destination means death to me. If I could figure out a way to remain forever in transition, in the disconnected and unfamiliar, I could remain in a state of perpetual freedom.

" -(Wojnarowicz, Close to the Knives p. 62).
​
For 59 days and 11,834 miles between June, July, and August 2015, Daniel and I explored America in our 2003 Toyota Corolla. We slept in a tent when we were able to find a KOA at a reasonable hour, but more often we slept in the car on the side of a road or at a rest stop. Even more frequently, we saw many distant friends and family members on this trip who welcomed us into their homes and made seeing America much easier for us. Not to mention they all showed us an amazing time and we will always cherish their hospitality as the most vital part of this experience.
It was important for us to see America to understand different aspects of our landscape and how it affects the social life of American people from state to state. To live in a country being only able to see a tiny part is to not know that country at all. It was essential for us to see as much as we could to remind ourselves of the land and opportunities lain out directly in our paths.
​
Cave Textures in
Skyline Caverns, Front Royal, VA
Eating a Meal in
Between the trip from Virginia to Florida
Waffle House at 2am in
South Carolina (I-95)
We arrived at 5:30am in
Daytona Beach, FL
First Visitors of the Day in
Daytona Beach, FL
Watching the Sunrise While Daniel
Sleeps in Daytona Beach, FL
Dan After Sun Finally Rose in
Daytona Beach, FL
Grandpa's Nightly Cigar in
Poinciana, FL
Grandparents at Chinese Buffet in
Kissimmee, FL
A Storm Brewin' on July Fourth in
Poinciana, FL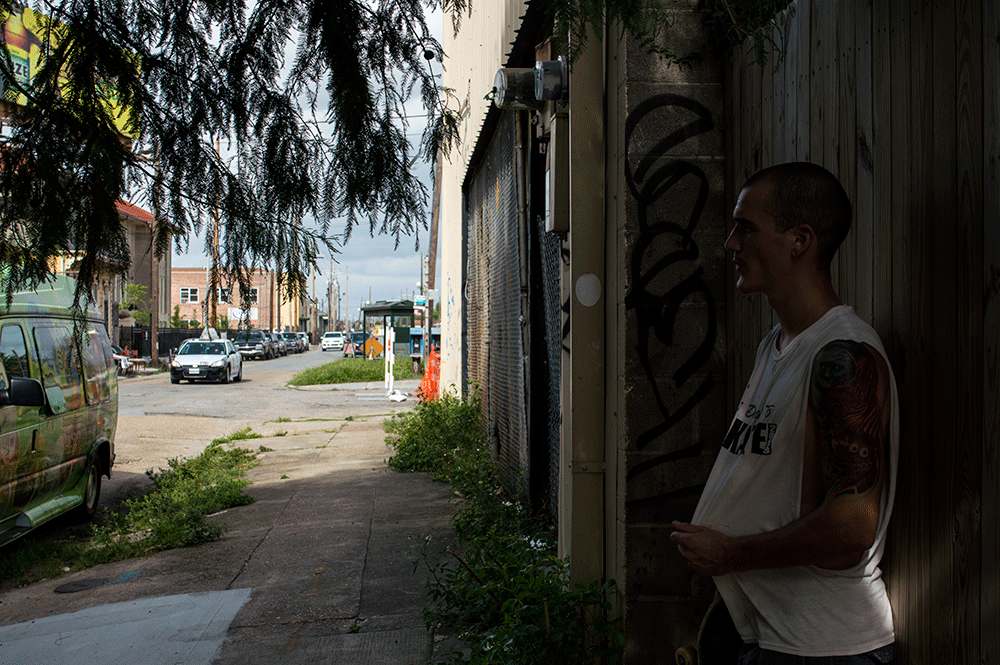 Dan After Skating in
New Orleans, LA
A Block Away from our Airbnb in
New Orleans, LA
Somebody Lives Here in
New Orleans, LA
Our Host, Alice, in
New Orleans, LA
These Cats Gave Us Fleas in
New Orleans, LA
Through Verti Marte Window in
New Orleans, LA
After a Long Day of Travelling in
New Orleans, LA
Between Two Houses in
New Orleans, LA
Dan Gets Ready to Sleep in
New Orleans, LA
Pink Windows in
New Orleans, LA
Symmetrical House in
New Orleans, LA
Common Room at Co-Op House in
Central East Austin, TX
Cthulhu the Cat in
Central East Austin, TX
"Dog Food" (Communal Meal) at
Co-Op House in Central East Austin, TX
One Roommate's Last Night at Co-Op
in Central East Austin, TX
A Game of Bag in
Austin, TX
Our Room with Colored Lights in
Austin, TX
Our Room with Colored Lights in
Austin, TX
Boy Working at Peach Farm in
Henly, TX
Peach Country in
Henly, TX
Driving Through Somewhere in
New Mexico
Fraggle Rock in
New Mexico (between Big Bend, TX, and Tucson, AZ)
The Longest Trains We've Ever Seen
in New Mexico (between Big Bend, TX, and Tucson, AZ)
Zoe's Neighbor's Truck in
Prescott, AZ
Insulated Window in
Prescott, AZ
Rainbow News Boxes in
Prescott, AZ
Everything is Closed on Sundays in
Prescott, AZ
Smashed Cacti on Bell Rock Trail in
Sedona, AZ
View From Top of Bell Rock Mountain
in Sedona, AZ
Dan Runs Ahead in
Bell Rock Trail, Sedona, AZ
Dan Likes to Climb Alone in
Grand Canyon National Park, AZ
We Are All Tourists in
Grand Canyon National Park, AZ
Dan From Far Away in
Grand Canyon National Park, AZ
Decrepit Native American Land on
Route between Grand Canyon, AZ, and Kanab, UT
Vermillion Cliffs in
Marble Canyon Overlook, AZ
Falling Clouds in
Vermillion Cliffs, Marble Canyon, AZ
Daniel Fits in
Somewhere near the Vermillion Cliffs in Marble Canyon, AZ
Dan Looking Up in
Zion National Park, Hurricane, UT
Daniel Off the Trails in
Zion National Park, Hurricane, UT
Dan Changing After a Swim in
Zion National Park, Hurricane, UT
July is Tadpole Season in
Zion National Park, Hurricane, UT
Overlooked Nook in
The Narrows at Zion National Park, Hurricane, UT
Hiking The Narrows Barefoot in
Zion National Park, Hurricane, UT
A Nap Between Vegas and San Diego in
Jean, NV
Emma's Backyard in
San Diego, CA (North Park)
Keeping Bacon Covered for Sandwiches
in San Diego, CA (North Park)
Bikes and Frames in
San Diego, CA (North Park)
Emma in
San Diego, CA (North Park)
Dan and Andrew After Tequila in
Isla Vista, CA
Boys Huddle Around Rig in
Isla Vista, CA